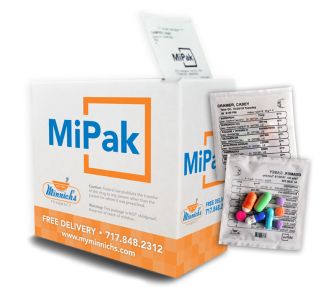 MiPak - Strip Packaging
MiPak is a FREE service created by Minnich's to make medication adherence simpler. Whether intended for you or a loved one, Minnich's customizes each MiPak in monthly strips containing all of your medications, organized for you into perforated packs. Each dose is easy to take on-the-go and is clearly labeled to make sure you get the right medications at the right time of day. Your monthly supply will be packaged and delivered so you never have to worry about running out or getting refills again!
Want to Get Started with MiPak? Click to Download Our Start-Up Packet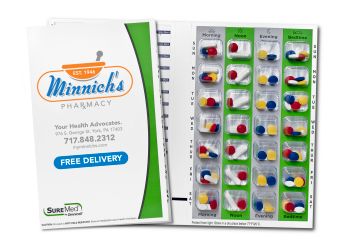 SureMed™ - Blister Packaging
Some things in life are complicated. Taking medication as directed by your physician should not be one of them. That's why we offer SureMed for patients on multiple medications. SureMed is an easy, stress-free way to the right dose of the right medication at the right time. We organize your oral solid medications in one convenient package, so you know what to take and when to take it.
Want to Get Started with SureMed? Click to Download Our Start-Up Packet
Not Sure Which Option is Best for You?
Give us a call at 717-848-2312 or click on the link below to view our Adherence Packaging Comparison Chart.